Training activities by competence
The Professional Competence Model for UAB Researchers distinguishes six domains that gather 22 descriptors. The Model is based on the list of transferable skills defined by the European Science Foundation [ESF] (2009), which OECD (2012) assembled into 6 categories, and other models like the Researcher Development Framework of the United Kingdom (VITAE, 2011).
To see our Professional Development programme for Researchers, click on the following link.
Below you can find a classification of our training activities according to the main skill they are focused on. For more informatiom on the scheduled activities for this academic year, please click here.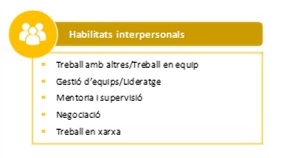 Teamwork
Leadership techniques
How to expand your network of contacts to get a job
The third half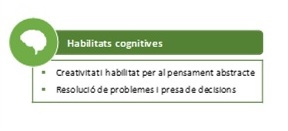 From idea to prototype: a short design thinking session
Critical Thinking
Lego® Serious Play®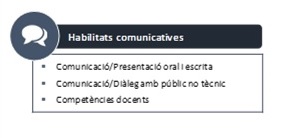 Writing a thesis in English
Defending your thesis
Presenting Research
Writing an abstract and outlining a scientific paper
Communicating science
Research Papers
Elevator Pitch
How to communicate your research on social media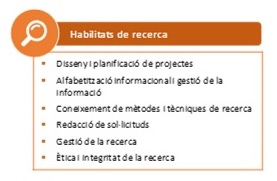 Responsible PhD: integrating responsible research and innovation in PhD research
Good research practices and research integrity at the UAB
Web of Science and Scopus
Information resourdes for PhD
Intellectual property in the thesis
Open access publishing and funding at UAB
Research data: open access publishing and data management plan
Basic Zotero
Gender perspective in research
Chemical risks in the laboratory
Citizen Science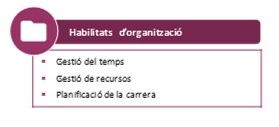 Research Yourself
Welcome session
How to design and defend your PhD with the dea Puzzle® software
All you need to know to be a researcher in Europe
Job hunting mode ON!
Home office
Make it easy! AGILE methodology
Research design with Idea Puzzle®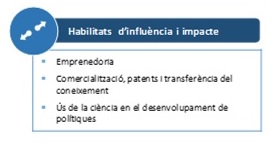 Technology-bades intellectual property
How to validate your research