UAB's Virtual Fair for Master's Degrees, Graduate Courses and PhD Programmes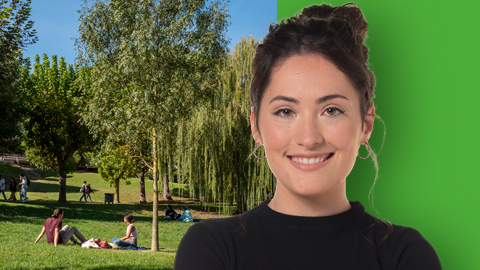 Are you thinking about enrolling in a master's or postgraduate degree, but can't make up your mind? Would you like to speak directly with the coordinator of the programmes you are interested in and help solve any doubts you may have?
From 2 to 6 of October, 2023, the coordinators of the University Master's Degrees, continuing education's Master's Degrees and Graduate Diplomas and Courses, and PhD programmes will offer information sessions on each programme. They will begin with a short presentation and then will focus on answering all types of questions, helping to solve any doubts, presenting your future lecturers and helping you meet your future classmates.
In the following drop-downs you can see all the sessions, sorted by knowledge area:
| | |
| --- | --- |
| 3 October, 18h | Master's Degree in Food Safety and Quality Management + Specialisation in Food Safety + Specialisation in Quality and Food Safety Law |
| | |
| --- | --- |
| 2 October, 18h | University Master's Degree in Remote Sensing and Geographical Information Systems |
| | |
| --- | --- |
| 2 October, 16h | PhD in Biochemistry, Molecular Biology and Biomedicine |
| 3 October, 15h | University Master's Degree in Applied Microbiology |
| 3 October, 17h30' | University Master's Degree in Neurosciences |
| 5 October, 10h | PhD in Neurosciences |
| | |
| --- | --- |
| 2 October, 17h | Course in Document Controller: Manager of Industrial Information (Online) |
| 2 October, 18h | Course in Document and Archive Management in the Company (Online) |
| 3 October, 15h | University Master's Degree in Management, Organization and Business Economics (MMOBE) |
| 3 October, 15h30' | University Master's Degree in Applied Research in Economics and Business (MAREB) |
| 3 October, 15h | PhD in Applied Economics |
| 3 October, 19h | Master's Degree in Business Management |
| 4 October, 16h | Specialisation in Social Economy: Local Development, Cooperatives and Social Transformation |
| 4 October, 16h | Master's Degree in Business Management (CITIUS Programme) |
| 5 October, 15h | University Master's Degree in Specialized Economics + University Master's Degree in Data Science |
| 5 October, 16h30' | University Master's Degree in Sports Management |
| | |
| --- | --- |
| 2 October, 15h | Master's Degree + Specialisation in Gender and Communication |
| 2 October, 16h | Master's Degree in Literary Journalism, Communication and Humanities |
| 2 October, 17h | Specialisation in Editorial Photography and Design |
| 2 October, 17h30' | University Master's Degree in Media, Communication and Culture |
| 3 October, 13h | Master's Degree in Communication and Education |
| 3 October, 14h | Master's Degree in Management of Political and Electoral Communication |
| 3 October, 17h | University Master's Degree in Journalism and Digital Content Innovation |
| 3 October, 18h | Master's Degree in Management of Public Relations and Communication Agencies |
| 4 October, 13h | Master's Degree in Environmental Communication |
| 4 October, 14h | Master's Degree in Travel Journalism |
| 4 October, 16h | University Master's Degree in Archival Studies and Information Governance |
| 4 October, 18h30' | Master's Degree in Strategy, Creativity and Digital Marketing Tools |
| 5 October, 18h | Master's Degree in Business and Institutional Communication (Online) |
| 5 October, 18h | Master's Degree in Advertising Account Management |
| 5 October, 18h | University Master's Degree in Journalism and Digital Content Innovation |
| 5 October, 19h | Specialisation in Fashion and Luxury Communication |
| 6 October, 16h | University Master's Degree in Journalism and Digital Content Innovation |
| 6 October, 17h30' | Master's Degree in Neuromarketing |
| | |
| --- | --- |
| 2 October, 11h | Specialisation in Peace Culture |
| 2 October, 15h | University Master's Degree in Research in Education |
| 2 October, 16h | Specialisation in Teachers' Digital Competence |
| 2 October, 18h | Specialisation in Psychomotor Development from 0 to 8 Years |
| 3 October, 17h | Master's Degree in Support for Educational and Social Inclusion |
| 5 October, 12h | University Master's Degree in Teaching Chinese to Spanish Speakers |
| 5 October, 16h | University Master's Degree in Educational Psychology (MIPE) |
| | |
| --- | --- |
| 3 October, 15h | University Master's Degree in Biological and Environmental Engineering |
| 5 October, 17h | University Master's Degree in Telecommunication Engineering |
| 6 October, 15h30' | University Master's Degree in Research and Innovation in Computer based Science and Engineering |
| | |
| --- | --- |
| 2 October, 15h | PhD in History of Science |
| 2 October, 15h | PhD in Art History and Musicology |
| 2 October, 16h | Specialisation in Management of Electronics Records (Online) + Course in Design of Electronic Document Management Systems + Course in Electronic Document Management Processes and Tools + Course in Technological Models of Document Management Systems + Course in Data and Information Exploitation |
| 2 October, 16h | Specialisation in Illustration for Children and Youth Publications |
| 2 October, 16h | PhD in Comparative, Political and Social History |
| 2 October, 16h | University Master's Degree in History of Science: Science, History and Society |
| 2 October, 18h | Master's Degree in Graphic Design |
| 2 October, 18h | Specialisation in Design of Graphic Elements |
| 2 October, 18h | Specialisation in Web Design |
| 3 October, 16h | Course in Implementation and Audit of Management Systems for Records according to ISO 30301 (Online) |
| 3 October, 16h | Specialisation in Garden Art and Design |
| 3 October, 17h | Specialisation in Management, Preservation and Dissemination of Photographic Archives (Online) + Course in Photographic Heritage Management + Course in History and Dissemination of Photographic Heritage + Course in Identification and Conservation of Photography + Course in Digitization and Marketing of Photographic Funds + Course in Documentary Treatment of Photographs |
| 3 October, 18h | Specialisation in Creative Illustration and Visual Communication Techniques |
| 3 October, 20h | University Master's Degree in Contemporary History |
| 4 October, 17h | Specialisation in Exhibitions. Temporary Spaces, Curating and Creative Practices |
| 4 October, 18h | University Master's Degree in Research in Art and Design |
| 5 October, 16h | University Master's Degree in Theatre Studies (MUET) |
| 5 October, 18h | University Master's Degree in Design of Spaces |
| | |
| --- | --- |
| 2 October, 9h30' | University Master's Degree in Audiovisual Translation |
| 5 October, 16h | Master's Degree in Publishing |
| 5 October, 17h | PhD in Romance Languages and Cultures |
| 5 October, 17h30' | University Master's Degree in Advanced Studies in Catalan Language and Literature |
| 6 October, 13h30' | PhD in English Studies |
| | |
| --- | --- |
| 2 October, 18h | Master's Degree in Business Law (Online) |
| 2 October, 18h | Master's Degree in Legal Feminisms. Feminist Theories and Practices of Law |
| 3 October, 18h | University Master's Degree in Enterprise Law |
| 4 October, 18h | Course in A Catalan Law for the 21st Century |
| | |
| --- | --- |
| 2 October, 15h30' | Specialisation in Lactation and Donation of Human Milk |
| 2 October, 16h | Master's Degree in Artificial Intelligence and Big Data in Health |
| 2 October, 16h30' | Master's Degree in Advanced Pulmonology |
| 3 October, 15h | Master's Degree in Endoscopic Surgical Techniques |
| 3 October, 16h | Master's Degree in Neuroimmunology |
| 5 October, 16h | Master's Degree in Swallowing Disorders |
| 5 October, 20h | Master's Degree in Diabetic Foot Diagnosis and Treatment |
| 6 October, 16h | Master's Degree in Neuropsychiatry and Psychology 's Child and Youth |
| | |
| --- | --- |
| 2 October, 15h | University Master's Degree in Osteopathy |
| 3 October, 16h | University Master's Degree in Translational Research in Physiotherapy |
| 3 October, 17h | Specialisation + Courses in Healthy and Sustainable Lifestyle |
| 4 October, 15h | Specialisation in Pacient Care with non-Invasive Respiratory Support Systems (NIRS) |
| 4 October, 15h30' | Master's Degree in Surgical Nursing, Anesthesia and Pain Therapy + Specialisation in Surgical Nursing |
| 4 October, 16h | Specialisation in Neurologyc Physiotherapy |
| 4 October, 16h30' | Master's Degree in Nursing Care for People Affected by Burns and Chronic Wounds: A Comprehensive Approach |
| | |
| --- | --- |
| 2 October, 16h | Specialisation in Peace Culture |
| 2 October, 16h | Specialisation in Gender-Based Violence |
| 2 October, 17h | Specialisation in Gender and Equality |
| 2 October, 18h30' | University Master's Degree in Territorial Studies and Planning |
| 3 October, 15h30' | University Master's Degree in Education Policies for Global Development (GLOBED) |
| 3 October, 15h30' | University Master's Degree in International Relations, Security and Development |
| 3 October, 17h | University Master's Degree in Anthropology: Advanced Research and Social Intervention |
| 3 October, 19h | Master's Degree and Specialization in Applied Social Research Techniques (TISA) |
| 4 October, 16h | Master's Degree + Specialisation in Interuniversity Master's Degree in Contemporary Migrations |
| 4 October, 16h30' | Master's Degree in Political Marketing: Strategies and Political Communication |
| 4 October, 18h | University Master's Degree in Geoinformation |
| 5 October, 16h30' | Master's Degree in Metropolis in Urban and Metropolitan Studies |
| 5 October, 18h | University Master's Degree in Management of Mountain Areas |
| 5 October, 19h | University Master's Degree in Social Policy and Community Action |
| 6 October, 13h | Specialisation in Promoting Agroecological Farming at the Local Level |
| 6 October, 15h | University Master's Degree in Public Administration |
| | |
| --- | --- |
| 2 October, 15h | Master's Degree in Sports Career (MFPCD) |
| 2 October, 16h | Master's Degree in Psychocreativity |
| 2 October, 16h | Master's Degree in Child and Adult Clinical Neuropsychology |
| 2 October, 17h | Master's Degree in Healthy and Sustainable Lifestyle |
| 2 October, 18h30' | Specialisation in Management of Geriatric Centres |
| 2 October, 19h30' | University Master's Degree in Psychosocial Research and Intervention |
| 3 October, 11h | Master's Degree in Child and Young People Clinical Psychopatology |
| 4 October, 16h | Master's Degree in Psychocreativity |
| 5 October, 15h | Course in Suicide and Suicidal Behaviour |
| 5 October, 15h30' | Master's Degree in Environmental Intervention and Management: Society and Individual |
| 5 October, 16h | University Master's Degree in General Health Psychology |
| | |
| --- | --- |
| 2 October, 15h | PhD in Chemistry |
| 2 October, 16h | University Master's Degree in Electrochemistry. Science and Technology |
| 2 October, 16h | University Master's Degree in Soil and Water Management |
| 3 October, 15h | Master's Degree in Mathematics for Finance |
| 4 October, 16h | Master's Degree in Fine Chemistry and Polymers |
| 4 October, 16h | University Master's Degree in Paleobiology and Fossil Record |
| 5 October, 17h | University Master's Degree in High Energy Physics, Astrophysics and Cosmology |
| | |
| --- | --- |
| 2 October, 16h | Course in Drone Pilot (scenarios STS01 and STS02) with a specialty in Radio Operator, Public and Private Security + Course in Drone Pilots (scenarios STS01 and STS02) with a specialty in Radio Operator and Occupational Risk Prevention |
| 2 October, 19h | Specialisation in Quality Management System |
| 3 October, 18h | Course in Design of Public Spaces and Prevention of Insecurity |
| 3 October, 19h | Master's Degree in Criminology + Specialisation in Criminalistics. Analysis of Information and Advanced Techniques in Forensic Sciences |
| 3 October, 19h30' | Course in Declaration and Preparation of Trials, Tools and Action Strategies + Course in Communication Techniques Applied to Investigation (Police Declaration) + Course in Security of Events and Shows, a Comprehensive Vision + Course in Superior in Security Management and Law |
| 6 October, 19h | Course in Basic Dog Training and Education + Specialisation in Canine Unit Instruction |
| | |
| --- | --- |
| 2 October, 17h | University Master's Degree in Tourism Management in Cultural Heritage |
| 2 October, 18h30' | Master's Degree in Digital Management of International Tourism Business |
| 3 October, 17h | Specialisation in Ecotourism and Nature-Guide Training + Course in Interpretation of Natural Heritage |
| 3 October, 18h | University Master's Degree in Hotel Management |
| 5 October, 17h | University Master's Degree in Management and Organisation of Event Tourism |
| | |
| --- | --- |
| 5 October, 19h | Master's Degree in Small Animal Clinic |
| 5 October, 19h30' | Specialisation in Surgery and Anaesthesia in Small Animals |