UAB Open Days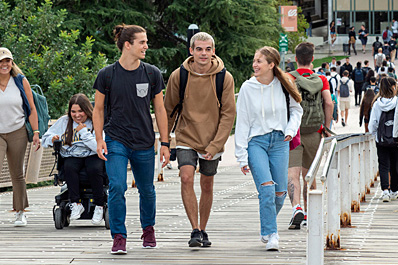 UAB Open Days, February 2024
The UAB campus opens its doors the 7, 8 and 9 of February 2024 to welcome future students.
Nearly 400 information sessions will be offered on campus to help future students discover the academic programmes available at the UAB.
All expectations were exceeded in the 2023 academic year, with a record-breaking number of more than 26,750 students signed up for the sessions.
On the days the UAB offers on-campus sessions, students can also take the opportunity to walk around campus and learn about the services available such as the Vila Universitaria, the libraries, cafeterias and gym.
For secondary school teachers, the UAB offers presentation sessions on all the new academic programmes which will begin in the 2024/25 academic year. These take place each day at 10 a.m.
In Novembre the Catalan version of this site will include a list of the information sessions scheduled in each of the UAB teaching centres.
Registration will be open soon.
Any doubts? Write us at promocio.portes.obertes@uab.cat