The UAB launches a pilot programme to foster the use of reusable containers
The UAB launches a pilot programme tofoster the use of reusable containers at the restaurant shared by the Faculty of Education and the Faculty of Translation and Interpreting. Reusable containers will be offered free of charge through a computer app. Containers will include dishwasher-safe polypropylene cups for hot beverages, and airtight containers which can be used in freezers, microwaves and dishwashers.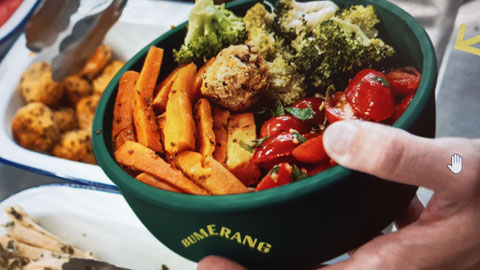 Serving food is one of the activities at the UAB that generates residues, particularly when related to single-use containers; the cafeteria located between the faculties of Education and Translation and Interpreting alone can serve up to 500 clients who order take-away beverages and meals, which will from now on be offered in reusable containers.
With the aim of contributing to meeting the European and Spanish objectives in the reusable products sector, the UAB is launching this new pilot programme. The initiative includes the participation of the concession company Serunion and the Bumerang company, which provides reusable containers through a computer app and is of no cost to users.
The cafeteria will offer different formats, including dishwasher-safe cups for hot beverages and air-tight bowls for meals that can be put in the freezer, microwave and dishwasher.
Users will have access to the reusable containers thanks to an app, which they must download and use to register the container they take and return. Each container has its own QR code which cafeteria workers will scan when handing out and receiving the containers. Users will be able to use to containers free-of-charge as long as they return them within a maximum of 15 days.
"The implementation of a reusable container system at the cafés and restaurants of the UAB has great potential and will allow us to advance significantly in circular economy models on campus, which will contribute to reducing the consumption and generation of resources, and the emission of greenhouse gases", says the UAB Office of Sustainability.
The initiative forms part of the UAB strategy to foster a more sustainable food service and which includes initiatives such as more public water fountains, less plastic bottles and the promotion of healthy, seasonal and fair trade foods and products.
In this sense, the UAB began years ago to limit the use of single-use plastic containers, which were substituted for containers made out of more sustainable materials, such as biodegradable and renewable cartons and biopolymers. Nonetheless, these materials continue to represent a large volume of resource consumption and generation of residues.
For this reason, the UAB aims to foster reusable container systems that promote a more sustainable consumption model based on the principles of circular economies and that include the participation of the entire university community.
Responsible consumption and production
Sustainable cities and communities